Posted on
By Justin Edge
Posted in Clothing
Let's get straight to my opinion on this jacket. It is the best cold weather fly fishing jacket on the market, hands down.
My advice to you...buy this jacket. Right now. Click on this link and add one to your cart on our web store. If you're saying to me, "but I already have a couple rain jackets," it doesn't matter. You do what you gotta do to get this jacket. When I first tried this jacket on I didn't want to take it off, and I immediately went home and found all the jackets in my house that I considered rain worthy, put them in a pile, and started listing all of them on eBay and Craigslist. Seven days later, after I mailed off all those other inferior jackets, I took my cold hard cash and bought myself the best damn fishing rain jacket ever made. Not only has it become my only rain jacket, but it's Primaloft interior provides just the right amount of warmth to fill in as my winter skiing jacket too. Two birds, folks. I even made a little dough in the process.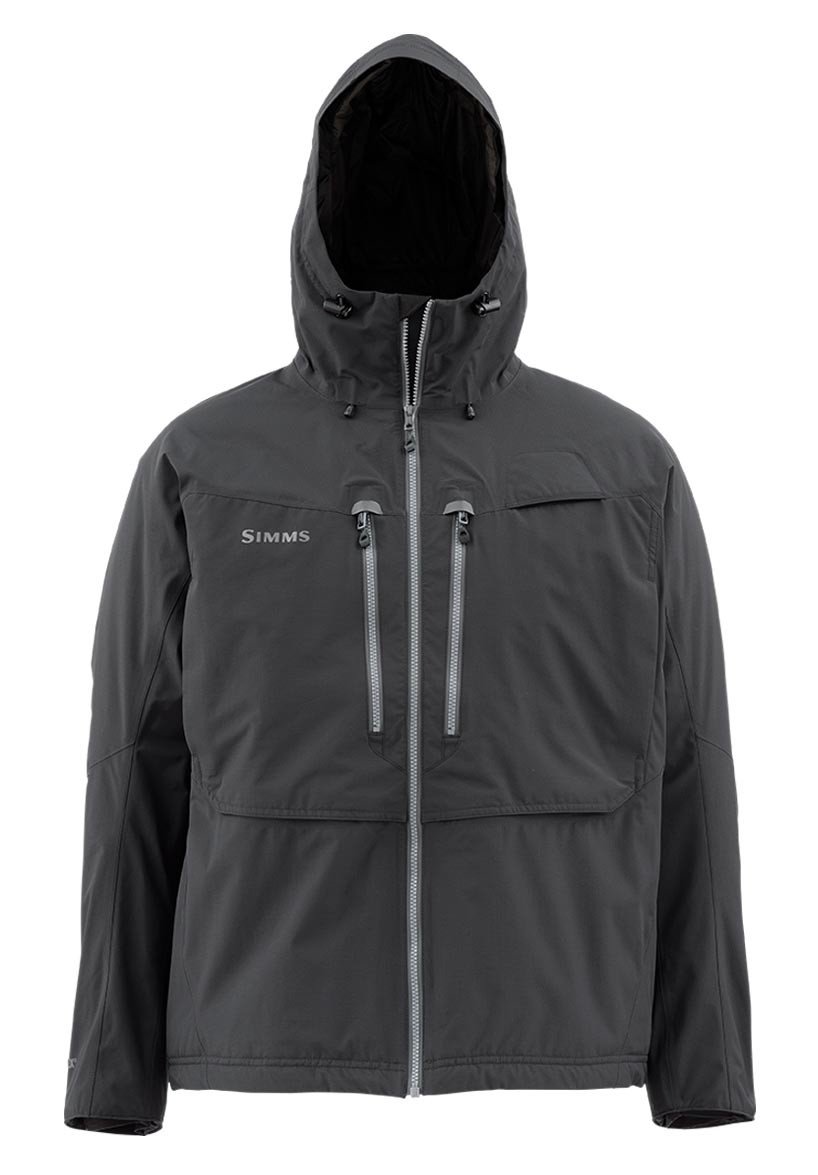 Simms Bulkley Jacket Features:
Upper hand-warmer pockets and two large YKK® AquaGuard® VISLON® zippered fly box pockets with new tooth design providing enhanced fluid repellency vs. coil or standard individual element closures

Watertight Shingle Cuff™ which eliminates line catch points

Dual drawcord adjustable bottom hem

2-layer GORE-TEX® Shell fabric - waterproof/breathable; 100% nylon 70d rip-stop face; 100% polyester 20d rip-stop liner; Primaloft® Silver insulation which maintains 85% of its warmth when wet and delivers maximum insulation on the coldest days.

Approximate weight: 28.8 oz./815g

Sizes: S-XXL

GORE-TEX®

Performance Shell

outerwear is waterproof, lightweight, durable and breathable. It's designed to provide excellent, long-lasting performance in a wide range of conditions.
Let's get down to the nitty gritty. First, I'll be completely transparent here: I love everything Simms produces, but their clothing has never really fit me very well as a true Medium wearer. Maybe I'm just weird. As such, I've always been a little skeptical about buying new clothes from them, especially expensive items like the Bulkley (retailing for $449). But this jacket fits very true to size and isn't a short jacket like some of the wading specific jackets out there. I like how they have improved on previous versions of this jacket by moving the sleeve cuff adjustable bands from the outside, where fly lines love to grab to the inside of the cuff. The Primaloft insulation is not only found on the interior of the jacket but the hood as well, a major plus in my book. And if you happen to fall in the drink with this jacket on, don't fret, because it retains all of its insulating power when wet.
Another smart feature of the new Simms Bulkley Jacket is that it has a dual draw cord system on the bottom sides. With a pull of one hand you can tighten it up and loosen down. I've never been a big user of any hood on any jacket, as it impedes my peripheral view and most are generally about as comfortable as a straight jacket. But with the combination of the Primaloft hood, uniquely tapered neck design, and the dual draw cord system allowing you to block out piercing chinook winds, I find myself wearing less winter hats in cold snaps and simply cinching the hood down over my ball cap if I get frosty.
At first glance one might think that the Primaloft insulation is overkill on a rain jacket that already boasts Gore-tex, But I can vividly recall more than a few occasions during each guide season where I'd have paid much more than retail for that extra layer of insulating warmth, even in mid July when Montana is known to get its fair share of cold hail storms on otherwise sunny beautiful days. There really is no downside to the Primaloft. I've never once felt like I'm overheating wearing this jacket.
But alas, after considering all of this jacket's magical powers, we arrive at the price. $449. That's a lot of bills. But ask around the shop and town here in Ennis, and this is by far the most popular jacket endorsed by guides. It is the one jacket you will ever need for any fishing (or otherwise) situation.
Here's what the other guys in the shop have to say about it:
"The Bulkley Jacket was revamped in 2016. The upgraded features include a more advanced wrist cuff system that has a strap closure and overlapping cuff which reduces fly line catching and adds a bit of a more casual finish. Also improved are the fly box pocket closures that are no longer velcro, but rather water resistant zippers. Everything else is pretty much the same. On a side note, I needed to clean mine the other day so I figured I'd wear it in the shower to give it a good scrub. I thought that for sure the jacket would leak water into the Primaloft and possibly all the way through to my skin. I was amazed that after about 2 minutes of standing under the shower the interior was 100% free of moisture. Sure its weird that I shower with my jacket on, but it did make me appreciate my Bulkley even more than I already did. At least the next time I fall on face while wading the Madison I know I have a good chance of staying dry."
-Parker Redmond
"Not only is the Bulkley the best cold weather fishing jacket I have ever owned, I wear it everyday! It's good looking and the combination of Gore-Tex, Primaloft and the hood keep you warm and dry no matter what the activity. It is the perfect all-around fall/winter/spring jacket."
-Joe Dilschneider
"Hand down the best foul weather, cold season jacket Simms has ever produced."
-Brian Rosenberg