Hatches & Fly Patterns
Hatches & Fly Patterns
March/April
Often 2 of the best "catching" months of the year. Of course much depends on the weather conditions, but the early spring fishing on the Madison is pretty dependable. Nymphing is most productive, but there will also be some dry fly and streamer options during this time frame too. Throughout winter and into this early spring period we only see Midge hatches, but these give way to spring Baetis sometime in April, which in turn gives way to Caddis in late April and Early May.
Favorite Flies for March/April
Pat's Rubber Legs (black/brown) #4-10
San Juan Worm (red) #12
BH Hare's Ear Nymph #10-16
Small Bead-head nymphs #14-20
Griffith's Gnat #20
Parachute Adams #18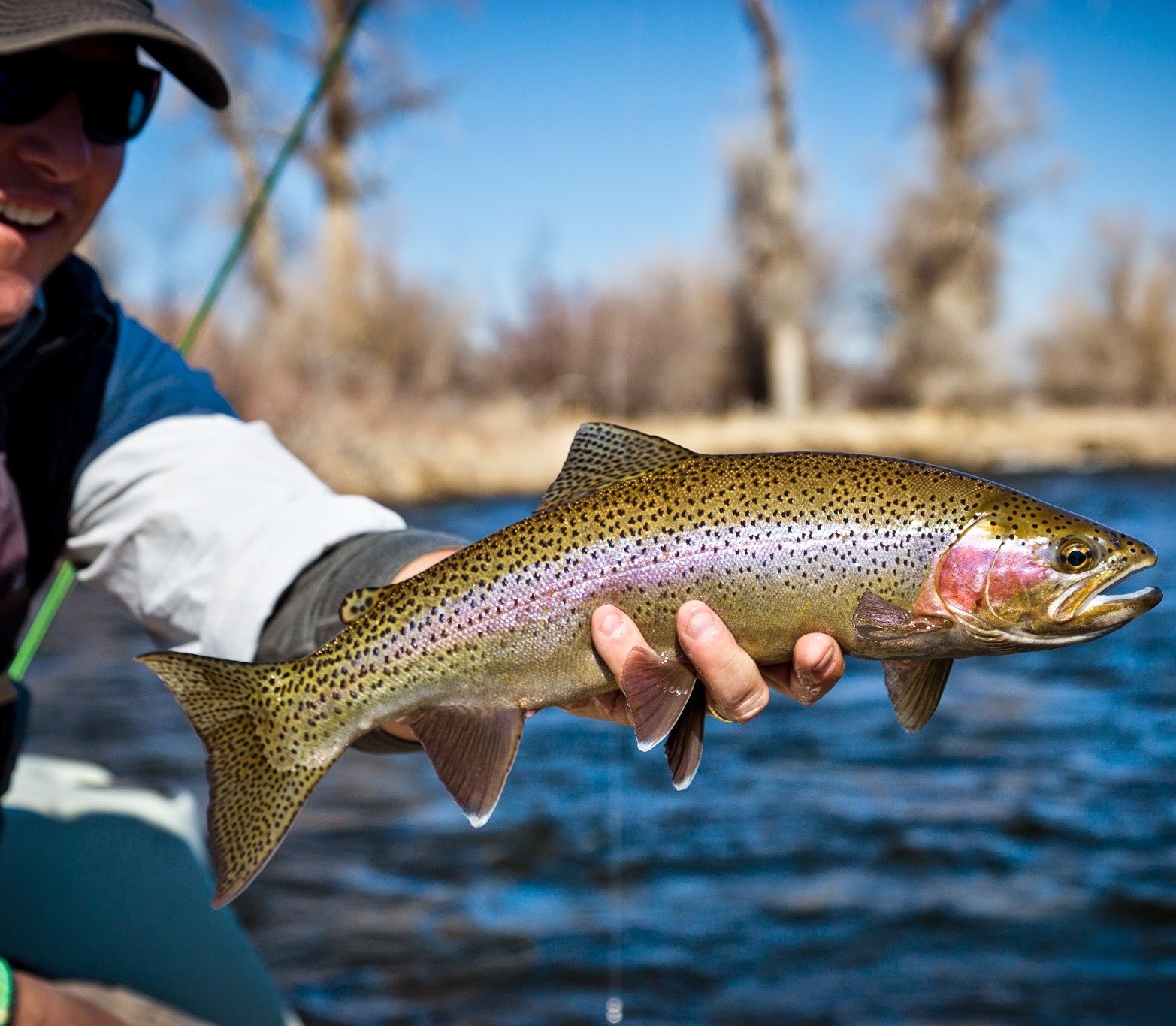 May/June
By May the insect hatches on the Madison are really going. There can be periods of excellent dry fly action at this time of year. The famous "Mother's Day Caddis Hatch" is usually starting in the first few days of May if not before. The hatch is heaviest on the Lower Madison, but often solid on the Upper Madison as well. March Brown mayflies will also be hatching on the upper river by mid-month. Nymphing and dry fly fishing are most productive during this period, but the die hard streamer guys always find a few also.
By mid-May the Madison is normally in runoff phase to some extent causing the river flows and turbidity to increase substantially. This period generally runs from early May through mid to late June. The giant Stonefly Nymphs (Salmonfly) are migrating to the banks during this time and many get knocked loose into the drift as the water rises. This can make for some great nymphing with big bugs. We call it "chuck-n-duck" fishing and it can be VERY productive if you embrace it.
By mid to late June (10th to 25th) we see the first adult Salmonflies at the town of Ennis. From that point the hatch usually takes 2-4 weeks to progress upstream to Hebgen Lake. Old timers referred to it as "The Hatch" and if you ever experienced it in full bloom, you know why. The fishing is not easy but patient, persistent and skilled anglers will see some awesome dry fly action throwing big flies for big fish.
Favorite Flies for April/May
Guide Chute Adams #12
Elk Hair Caddis #16
Peacock Caddis #16-18
BH Hare's Ear #12-16
Sparkle Pupa #16
Pat's Rubber Legs (black/brown) #2 -6
Favorite Flies for May/June
Henry's Fork Foam Salmonfly #4
Chubbys' (golden/purple/salmon) #4-8
Morrish Still Stone #4
Elk Hair Caddis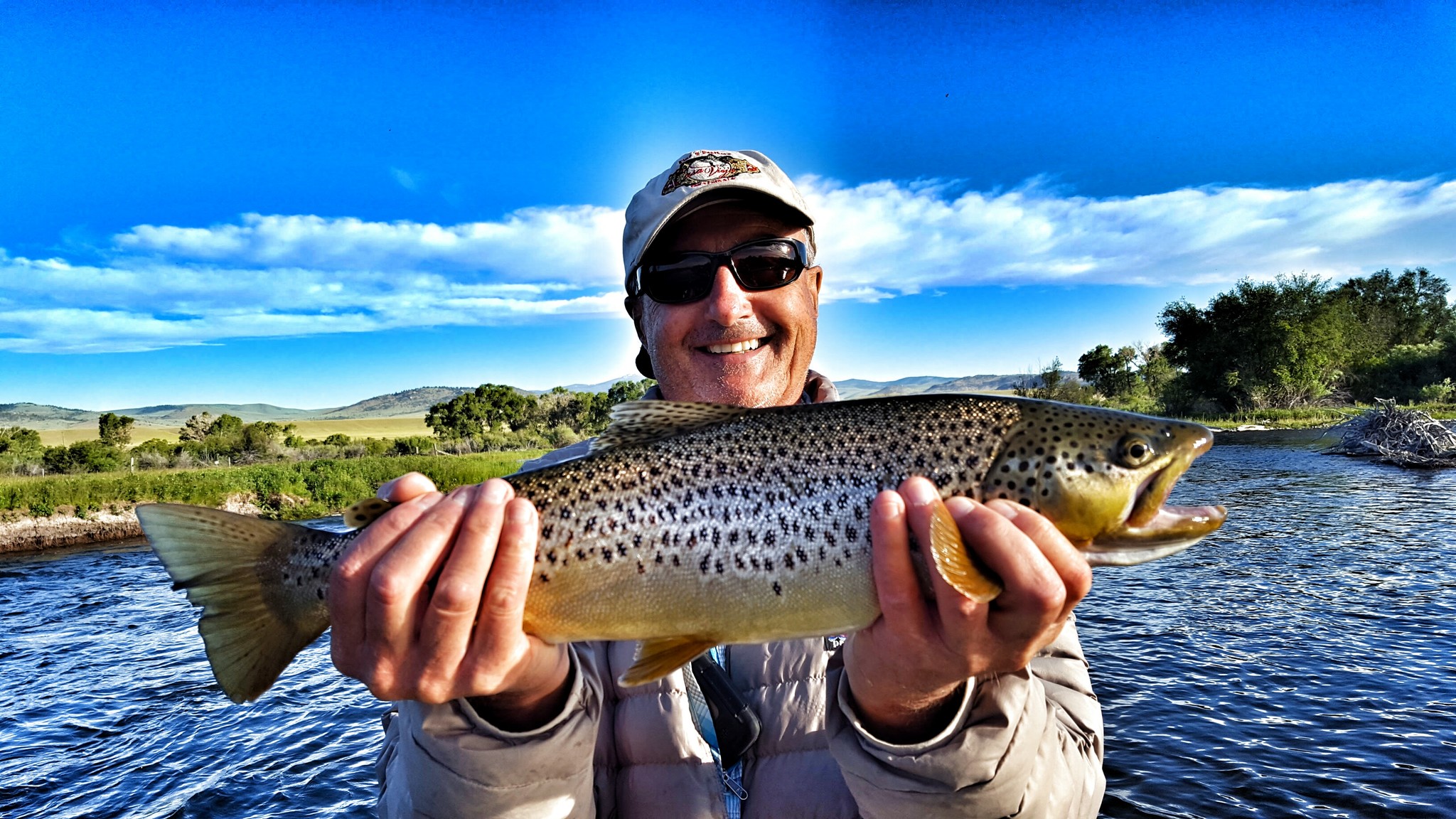 July/August
As runoff subsides and we ease into the peak of Rocky Mountain summer there is no better place to be than in the Madison Valley! The Salmonfly fishing can extend well into July as it progresses upstream. However we also see excellent hatches of Golden Stones, Caddis, PMD's and Yellow Sallies throughout July. This makes for some great dry fly fishing, especially the Caddis fishing in the evenings.
By early August we begin to see signs of the nocturnal Golden Stones on the upper Madison and big attractor dry flies come back into play. Attractors are easy to fish and consistently productive. This nocturnal Golden hatch is prolific and often lasts up to a month, Streamers will also produce some great action occasionally.
As August lingers on and the aquatic insect hatches begin to wane, terrestrials come into play. Hoppers are a long-time favorite on Madison anglers, but the Flying Ant hatches can be truly awesome. The ants will be present well into September.
Favorite Flies for July/August
Delektable Sparkle Caddis #12-16
Chubby's (golden/purple)
Stimulators( yellow/orange/royal) #12-16
P.T. Nymphs #14-18
Psycho Prince #14-16
Jig Prince #14-16
Pat's Rubber Legs (tan/brown) #6-10
Copper Zonker #4
Trevor's Sculpin (black/tan/olive) #4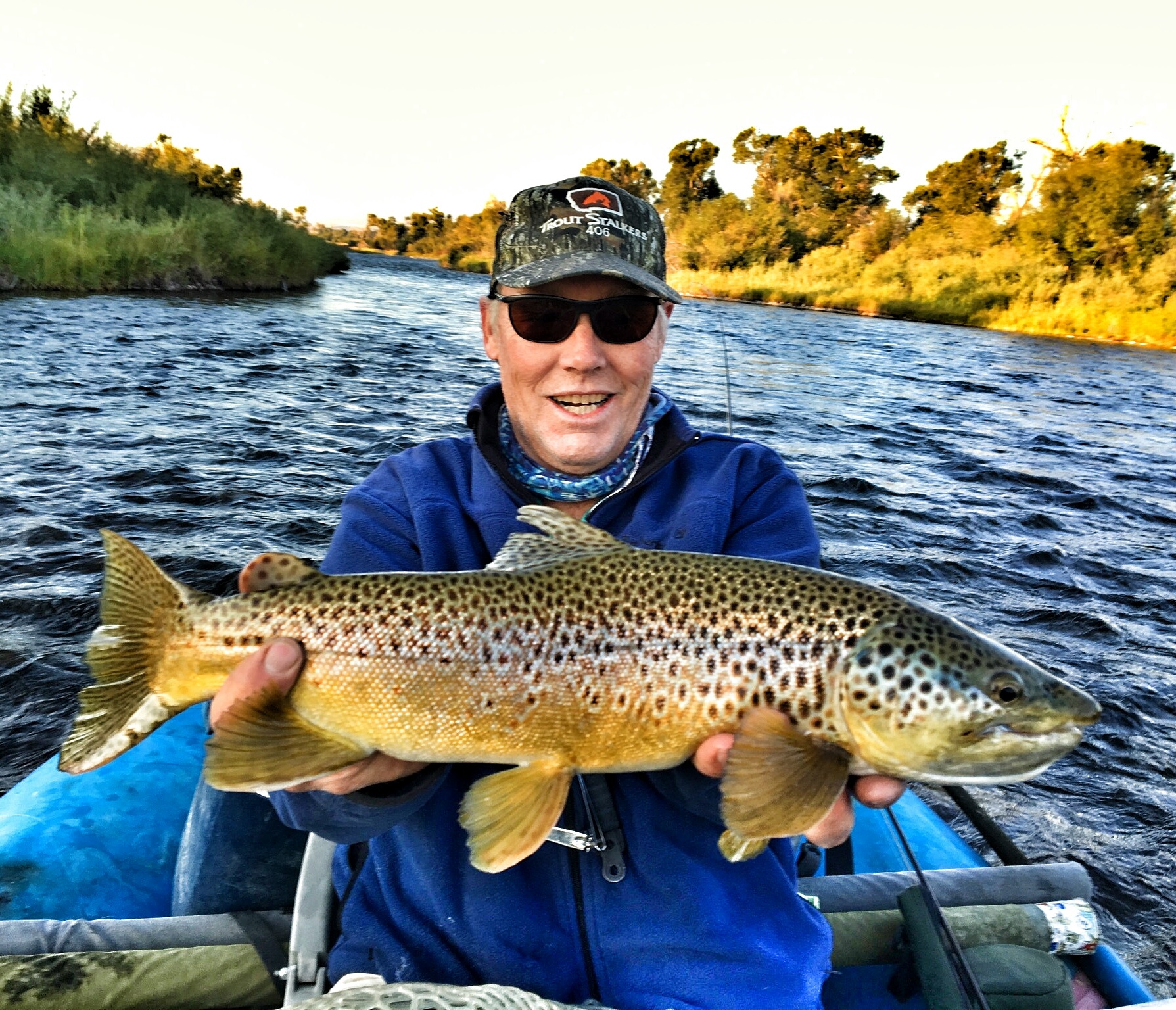 September/October
Fall is a special season on the Madison. Bright, crisp days with trees and Brown Trout turning to gold create and exciting atmosphere. Terrestrials and attractor patterns are still in play with only light and sporadic aquatic insect hatches. But cooler nights and lower water temps cause the fish to become more aggressive on streamers. Wooly Buggers and large streamers stripped off the banks produce big fish.
October days get shorter as winter approaches. Fall Baetis (Blue-Winged Olive) are the hatch of the month and the rough and rainy weather days can bring some good dry action with large trout sipping tiny dries. Browns are beginning to spawn and many anglers are our hunting with streamers for the biggest fish of the season.
Favorite Flies for September/October
Poly Wing BWO dries #18-22
Parachute Adams #18-22
October Caddis #12
Micro-May Nymphs #16-20
Zonkers #4-6
Wooly Buggers #4-8
Boogie Man Streamers #4
Winter Fishing on the Madison
Yes, believe it or not you can fish the Madison during the winter months! As always, weather is the big variable but we do get some great fishing days. Even on some of the coldest days we can find fishable water in the upper reaches of the Madison. A great diversion during your Big Sky ski vacation!